At 11.30pm, 10 nautical miles off Yemen's western Red Sea coast, seven fishermen were near the end of the four hours it had taken to haul their nets bulging with the day's catch into their fibreglass boat. Suddenly, away from the illumination of the vessel's large spotlight, one of the men spotted a black silhouette coming towards them.
Moments later a helicopter began circling overhead. The fishermen were well within the 30 nautical mile boundary they had been warned not to cross by leaflets airdropped on land by the Saudi-led coalition. But, without warning, gunfire erupted from the helicopter.
Osam Mouafa grabbed his friend, Abdullah, dragging him into a corner, curling himself into a protective ball as bullets flew through the boat. Shot in both knees, with a third bullet having grazed his thigh, Osam began to feel water rising around him. "The boat became like a sieve," he said, sitting next to the wooden stick he now needs to walk.
By the time the onslaught stopped, the captain – a father of eight – and Abdullah were dead. Another crew member, Hamdi, was deafened and paralysed down one side after being hit in the head by shrapnel. All bleeding heavily, the five survivors frantically began bailing water out of the sinking boat.
The partially submerged vessel, with the fishermen's clothes plugging the holes, drifted at sea for 15 hours until another boat rescued them, towing them ashore.
Since Saudi Arabia launched its military intervention in Yemen in March 2015, more than 10,000 civilians have died. More than 250 fishing boats have been damaged or destroyed and 152 fishermen have been killed by coalition warships and helicopters in the Red Sea, according to Mohammed Hassani, the head of the fishermen's union in Yemen's western port of Hodeidah.
"They have declared war on fishermen," said Hassani. More than 100 miles further south in the port of Mocha, fishermen have been barred from going out to sea since the Houthi-Saleh forces, who the Saudi-led coalition have been fighting for more than two and half years, were pushed out by Yemeni fighters backed by a coalition partner, the United Arab Emirates, in February.
Yemen's fishing industry has become an ever more vital lifeline for a country in the midst of the world's worst humanitarian crisis. More than eight million Yemenis are now facing famine after Saudi Arabia tightened a blockade on the country on 6 November. Restrictions were slightly eased on 26 November, allowing some aid in for the 20 million Yemenis relying on humanitarian support. But aid agencies have predicted mass famine if key ports such as Hodeidah remain closed to commercial imports.
Yemen relies on maritime imports for more than 80% of its annual staple food supplies. Although staples remain available, the Saudi-imposed import restrictions, combined with a rapidly depreciating currency, mean food prices have sky-rocketed. Government salaries have gone unpaid since August 2016 and an estimated 55% of the workforce have been laid off due to the conflict. Millions of Yemenis can no longer afford to buy food, forcing them into the more than 75% of the population who are in need of humanitarian assistance.
In the district of al-Rawda in northern Sana'a, farmer Yahya Abdu Taleb stopped cultivating his land after a bomb from an airstrike landed in a field less than 50 metres from his house. Fortunately for the family, the missile failed to explode.
Standing in the now fallow farmland, Yahya watches a team from Yemen's national demining programme extract the missile buried some 10ft into the soil.
"I have three wells on my land. But now I don't grow anything," he said. When food prices started to rise, he went to rebuild the polytunnels needed to grow vegetables in the extreme mountain temperatures of Yemen's arid northern highlands. But his neighbours begged him to stop. "The Saudis target them [the polytunnels]. They were afraid the planes would come back, bomb us and kill their families."
Nine-year-old Zahara Taleb used a mobile phone to film the bomb being winched out of her father's farmland next to their home. "I want to make sure it's gone so I don't have to be afraid anymore," she said.
Ali al-Mowafa, heading the team from the NDP working to remove the unexploded ordnance in al-Rawda, said British, American and Italian-made bombs were identified among 12 missiles that failed to explode from one night when 52 bombs hit the district last August.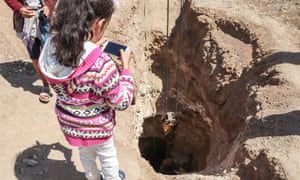 Research on the pattern of bombing, carried out by emeritus professor Martha Mundy at the London School of Economics, concluded that in the first 17 months of the Saudi-led bombing campaign there was "strong evidence that coalition strategy has aimed to destroy food production and distribution" in areas controlled by the Houthis and allied forces loyal to former president Ali Abdullah Saleh. Saleh was killed by Houthi forces in Sana'a last week, days after declaring he had switched allegiances.
Data on coalition airstrikes collected by the Yemen Data Project have recorded 356 air raids targeting farms, 174 targeting market places and 61 air raids targeting food storage sites from March 2015 to the end of September 2017.
The UK's de-facto deputy prime minister Damian Green has defended the British government's continued support of weapons sales to the kingdom on the grounds that "our defence industry is an extremely important creator of jobs and prosperity", while also highlighting Britain's role as "the fourth largest humanitarian donor to Yemen".
The British government has approved more than £4.6bn in fighter jets and arms sales to Saudi Arabia since their Yemen bombing campaign began. British military officers are also providing targeting training to the Royal Saudi Airforce.
May said she would demand Saudi Arabia immediately end its blockade during her recent visit to the kingdom. It remains in place.
Attacking Yemenis' ability to provide food for themselves has been described as a "blatant violation of international laws" by aid agencies.
Despite the prospect of imminent mass famine, this strategy is being used to put greater pressure on the Houthis in lieu of failed efforts by the Saudi coalition to bomb the Iranian-aligned rebels into submission over more than two years.
Yemen analysts also point to the policy as a more appealing option for the Saudi crown prince, Mohammed bin Salman, who also holds the role of minister of defence, than deploying thousands of loosely aligned, highly factional troops to attempt a precarious forced takeover of the Houthi-controlled capital.
"There are voices in the coalition and Yemeni government who view economic levers as a potential means of putting pressure on the Houthis and of pressuring people living under the Houthis into rebelling or expressing greater discontent against them as conditions worsen," said Adam Baron, a Yemen expert at the European Council on Foreign Relations.
"Destruction of access to food and water constitutes a war crime," Mundy of the LSE noted in a paper published in September by the Global Network for the Right to Food and Nutrition.
"But who is to prosecute when the same international organisations and national states, which stood aside for months of bombardment and blockade, now play the role of humanitarian intervention to save Yemenis from famine and cholera?"
Source: Iona Craig, the Guardian